---
Calendar
<! Begin Burns Supper 20190118 --->
---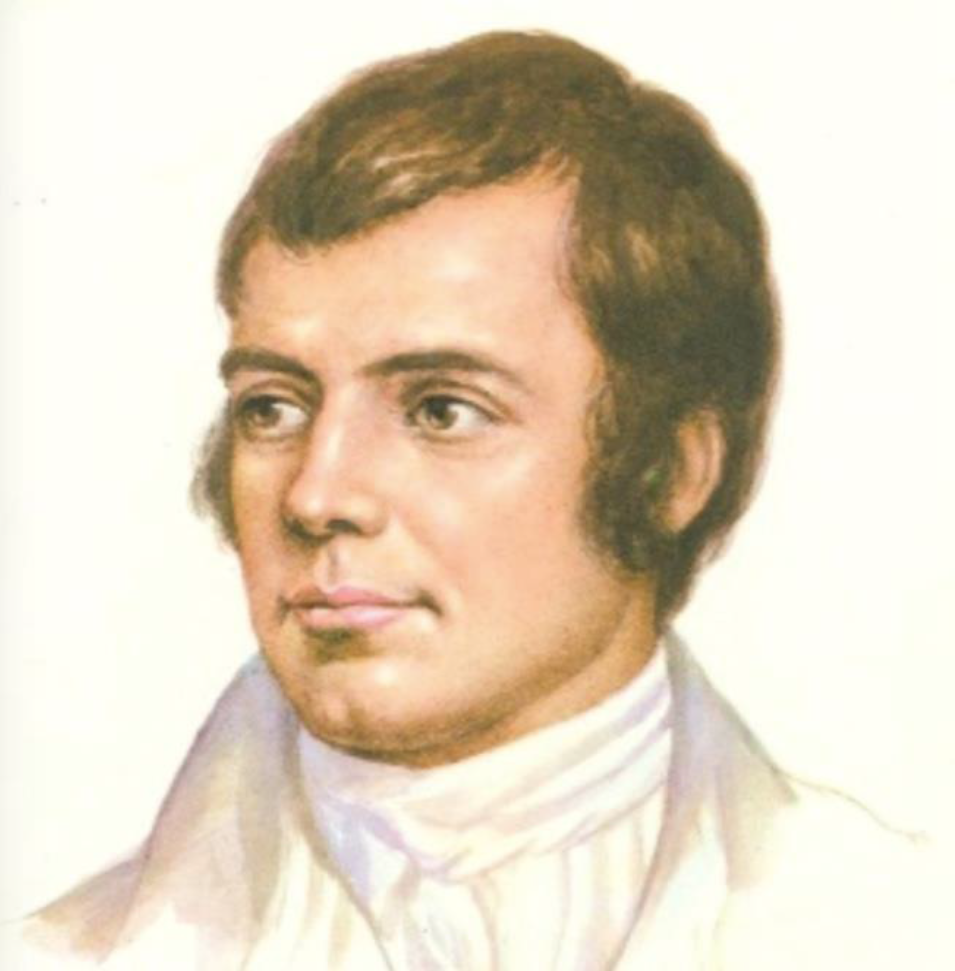 Robert Burns
26th Annual Burns Supper
January 18, 2020 ~ 4 to 10 PM
Mountain View Masonic Temple
890 Church Street, Mountain View
Each January the South Bay Scottish Society hosts a traditional Burns Supper, carrying on the tradition started in Scotland to honor the birthday of Scotland's immortal bard, with great Scottish food and drink, poetry, camaraderie, and great entertainment.
The typical evening includes the piping in and toast to the haggis, the traditional toast to Robert Burns, Burns songs and poetry, special and spirited Toasts to the Lads and the Lassies, singing, ceilidh ('kay-lee') dancing, and other surprises.
To take advantage of our limited seating and early reservation ticket prices, purchase online by Friday, January 10, 2020, using the appropriate button(s) below.
Purchase Burns Tickets Here

| | | |
| --- | --- | --- |
| SBSS Member Adult: | Non-Member Adult: | Childs Burns Supper: |
About Rabbie

Robert Burns was born on January 25, 1759 in Alloway, Ayrshire in Scotland and died on July 21, 1796. Though his life was short, his impact on poetry and his beloved Scotland are felt to this day, so it is not surprising that people continue to celebrate his life and work over two hundred years after his death.
<! End Burns Supper 20190118 --->
---
WINTERDANCE CELTIC CHRISTMAS CELEBRATION
South Bay Edition, in San José
Molly's Revenge
Amelia Hogan, vocalist
The Rosemary Turco Irish Dancers
→ Watch the Videos ←
Saturday, November 30th, 7:30 PM
Tabard Theatre on San Pedro Square, 29 N. San Pedro St, 2nd Floor, San José, CA
Molly's Revenge, starring David Brewer, John Weed and Stu Mason with guest vocalist Amelia Hogan, and the award winning Rosemary Turco Irish Dancers will present an evening of music, song and dance associated with the festive season. The performance will include Christmas songs both old and new, all played with a Celtic twist, and something new for our regulars.
'A seriously joyous, masterly musical experience.' — Tom Clancy, Irish Music Magazine
Amelia Hogan
Molly's Revenge, whose lineup includes bagpipes, fiddle, whistle, guitar, mandola, and bodhran, have toured the world with their unique and infectious on-stage enthusiasm. Their arrangements of traditional jigs and reels bring these dance tunes up to date with a driving, hard-edged accent that always leaves audiences shouting for more.
As always, this 14th Annual Celtic Christmas Celebration will capture the traditional spirit of the season and warm the hearts of all who attend. Vocalist Amelia Hogan, and her voice of lilting grace and a subtle power will again balance the evocative storytelling of these great songs, and the Rosemary Turco Irish Dancers will bring a percussive, joyful, and colorful exuberance to the stage.
California-based Molly's Revenge has toured since 2000 as a four and five-piece acoustic band, releasing eleven CDs along the way, and in 2014, Molly's Revenge and Christa Burch recorded a collection of Celtic Christmas and winter-themed music at a remote windswept retreat in the redwoods of the Mendocino coast. This beautiful Winterdance holiday album will be available at the shows.
To raise funds for their programs, the South Bay Scottish Society and co-sponsor AmeriCeltic.net offer WinterDance – South Bay Edition at the Tabard Theatre on San Pedro Square, 29 N. San Pedro St, 2nd Floor, upstairs from O'Flaherty's, in downtown San José, with ample validated parking in the City parking ramp accross San Pedro lot. Check out the Tabard Theatre and Parking here: Theatre Virtual Tour.
---
Tartan Proclamation Day in San José
Wednesday, April 3rd, 2019, 12:00 Noon to 1:30 PM
San Jose City Hall Plaza, 200 East Santa Clara Street San José, CA
Tartan Day Proclamation
• Saltire Flag Raising
• Color Guard Parade by SAMS Post 1921
• Scottish Highland Dancers from
San Jose School of Highland Dancers
Lead Piper for Dancers – Joe Roberts
• The Silicon Valley Pipe Band
(fka Stewart Pipers and Drums)
Please JOIN US, The South Bay Scottish Society, as we celebrate Tartan Day at San Jose City Hall Plaza!
National Tartan Day is a US observance on April 6 each year. It commemorates the Scottish Declaration of Independence, from which the American Declaration of Independence was modeled on. It also recognizes achievements of Americans of Scottish descent.